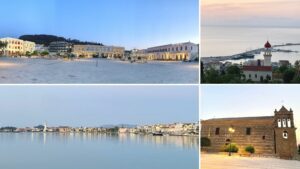 The capital city has a multitude of things to do and see both day and night for tourists and locals.
Strada Marina, the street that encircles the harbour has innumerable cafes, restaurants and shops which attract visitors and locals alike. The street starts at Solomos Square and runs as far as the church of AgiosDionysios (St Dennis), the patron saint of the island. A walk along the harbour will let you see all the daily cruise boats, the fishing boats, the yachts visiting the island and also the ferry boats which connect the island to the mainland.
Solomos Square is a wide-open space facing the sea and surrounded by magnificent buildings with arched windows and arcades, such as the Zakynthos Museum of Post-Byzantine Art and the Municipal Library. Nearby, is the church of St Nikolas "on the mole", a Renaissance style building from the 17th Century with a Byzantine style belfry. In the centre of the square stands a statue of DionysiosSolomos, the national poet of Greece.
This is the place where many families visit in the evenings as there is plenty of space for children to play safely and the parents can watch from the seating areas of the cafes around the square.
From Solomos Square, moving towards the interior of the town, is the historic Square of Agios Markos (Saint Mark's). This paved central square is also busy with cafes and restaurants. Here you will find the Catholic church of St. Mark's and the museum dedicated to DionysiosSolomos, the poet Andreas Kalvos and other eminent Zakynthians.
From St Mark's Square starts Alexandrou Roma Street, which runs through the centre of town. This is the main shopping street of the town and also has small cafes and restaurants.